Tailored to your advertising goals and budget, GREE Ads Reward is an incentivized advertising product that gives you access to the social gaming platform GREE and other influential media. Ads only incur fees for successful downloads or registrations, making GREE Ads Reward an ideal, low-risk path to global product recognition. Leverage the service as a main pillar of your promotion strategy or to complement your other mass promotion campaigns.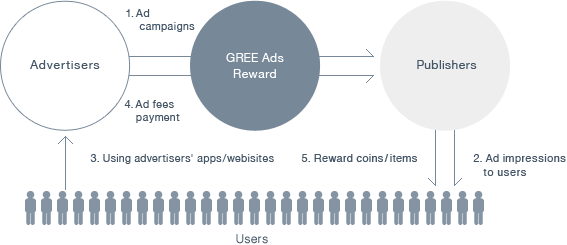 Feature
CPI-based Ad Campaigns
Customize GREE Ads Reward to fit your needs, whether it's installation volume or cost efficiency. Ad pricing is entirely contingent upon successful installs of your app or registrations to your site, making GREE Ads Reward is a low-risk, ad solution specializing in Japan.
Ad Campaigns on one of the World's Largest Platforms
GREE offers incentivized ads and leadlines targeted toward users that actively engage mobile games. Our user base in Japan is rapidly expanding, providing new opportunities for incentivized advertising on our platform.
Powerful Promotion Tool
Leverage our links with external media to acquire the users you need to boost your profit margin. Our incentivized advertising network is the largest in Japan, extending beyond GREE Platform to include our prominent media partners.
Implementation
After registering your GREE Ads Reward account.